Thyristor Module
It is a module equipped with a thyristor element and packaged in one package according to various circuit configurations.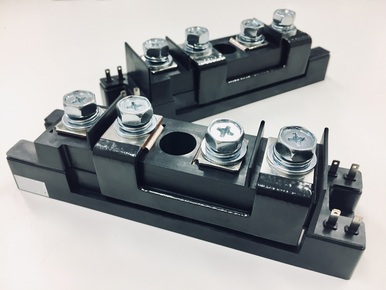 Features
・Possible for customizable by packaging technology which meets customer needs.
・Original structure design improves heat dissipation
・UL approved standard / RoHS compliant
Applications
Welding machine / Motor control / Electric furnace / UPS power supply / DC power supply / AC power supply / Conveyor
Specifications
>

Catalog
*To open PDF files, AdobeReader is required.
Product
Circuit
Model
VDRM
IO
ITSM
Tjw
Thyristor Module
PWA150STS16
1600
150
3200
−40~+125℃
PWA200STS16
1600
200
4000
−40~+125℃
PWB150STS16
1600
150
3200
−40~+125℃
PWB200STS16
1600
200
4000
−40~+125℃
PWA150STA16
1600
150
3200
−40~+125℃
PWA200STA16
1600
200
4000
−40~+125℃
PWA150SDS16
1600
150
3200
−40~+125℃
PWA200SDS16
1600
200
4000
−40~+125℃
PWB150SDS16
1600
150
3200
−40~+125℃
PWB200SDS16
1600
200
4000
−40~+125℃
PWA150SDA16
1600
150
3200
−40~+125℃
PWA200SDA16
1600
200
4000
−40~+125℃