Substation Equipment Renewal Services
Use the rental system with an initial investment of 0 yen for the renewal, replacement, or introduction of substation equipment!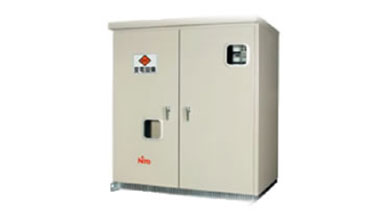 Overview
The safety manager says you need to replace the substation equipment you've been using for more than 20 years.
You really want to replace it. The equipment is way past the recommended renewal date and now runs a higher risk of accidents. But there are a few things stopping you.
Substation equipment is expensive and you cannot fit into your budget.
You want to use the money you borrowed from the bank for other businesses, etc.
The equipment has not been renewed, even though you know it needs to be.
Features
1. Allows for the efficient use of funds with an initial investment of "0 yen" and payment of fixed monthly expenses.
2. Rental fee can be recorded as an expense.
3. Allows for early depreciation with a rental period of nine years. (Statutory useful life is 15 years, with replacement recommended in the 20th year).
4. Allows you to cut down on the paperwork for procuring funds, paying fixed property tax, and others.
5. Free to cancel the contract with prior notice (from six months after the contract start date).
6. Option to buy or return the equipment when the rental contract term ends. *Change of ownership is possible.
7. Option to rent newly installed equipment. Introduction of equipment at multiple sites allows for the efficient use of funds.
8. The rental system can be used in combination with other plans to introduce equipment.
Example: Substation equipment + air conditioners, substation equipment + production facilities, substation equipment + energy saving system, etc.
9. Early renewal helps you lower repair costs and reduce the risk of accidents, too.
10. Reduction in load losses and non-load losses (energy-saving effect).
11. System permits the use of products other than our original products (with conditions).
12. System allows you to maintain business relations with electrical engineering company and lead engineer with whom you do business.
Specifications
Factors Leading to Electric Equipment Accidents and Failures
A questionnaire survey was conducted from 2005 to 2006 to study the effect electric equipment has on industrial accidents. The results show that in many cases accidents and failures were caused by "Equipment-related factors," with the aging of equipment the most common reason cited.
To properly address factors such as the "Aging of equipment" and "Deterioration/wear of part/device," maintenance checkups or equipment diagnosis should be performed regularly. Proper maintenance measures, such as the renewal and life extension of equipment, should also be taken.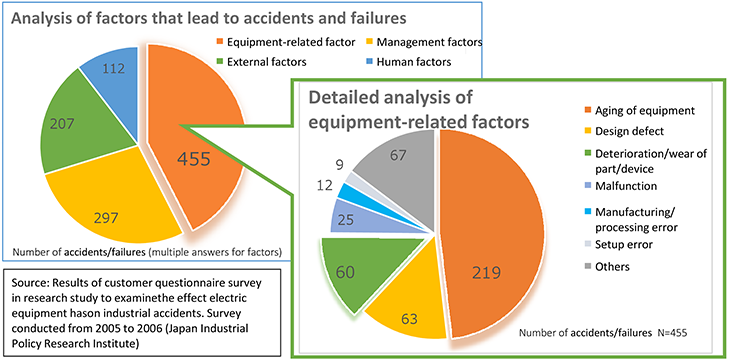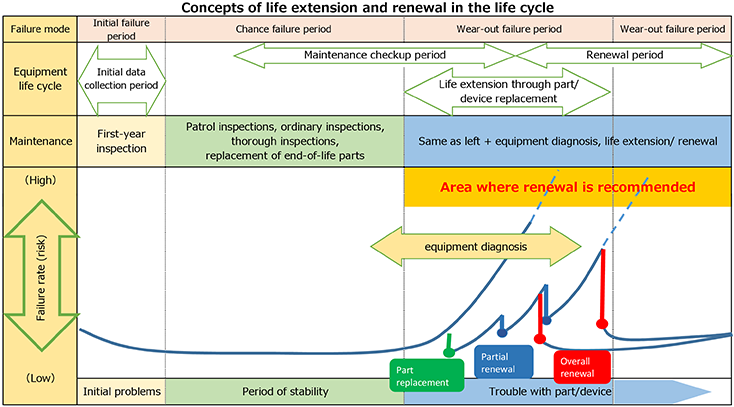 Time for Equipment Diagnosis, Maintenance Checkup Cycle, and Time When Renewal Is Recommended
Diagnosis is generally performed about five years before the recommended renewal time. However, different considerations need to be taken into account, such as trying to carry out diagnosis around the time the detailed inspection is performed.
Equipment Category
Device Name
Ordinary Inspection Cycle
(years)
Detailed Inspection Cycle
(years)
Recommended Time for Diagnosis
(years)
Recommended Time for Renewal
(years)
Average Number of Years Before Renewal Expected by Users
*1*2(years)
High Voltage Substation Equipment
Circuit Breaker
1~3
6
15
20
25.2
Vacuum Circuit Breaker
1~3
6
15
20
25.5
Gas Circuit Breaker
1~3
6
15
20
26.8
Transformer for Molded Instrument
1~3
6
12
15
26.3
Lightning Arrester
1~3
—
12
15
—
Oil-Immersed Transformer
1~3
6
15
20
27.6
Air Switch Gear
1
6
15
20
25.8
Power Distribution Equipment
Disconnecting switch・Circuit breaker
Transformer for instrument
1~3
6
Same as high voltage substation equipment
Same as high voltage substation equipment
Same as high voltage substation equipment
Load Switch
1
2*3
—
Indoor15/
Outdoor10
Indoor24.9
ACB/MCCB
1
6
6~12
15
—
Electromagnetic Contactor
1~3
6
12
15
Vacuum25.5
Current-Limiting Fuse
1
—
6~12
Indoor15/
Outdoor10
16.2
Power Capacitor
(High voltage)
1
3
12
15
23.2
Oil-Immersed Transformer
1~3
6
15
20
27.6
Molded Transformer
1~3
6
15
20
27.1
Switchgear
Control Gear
1
6
15
20
—
*1 Source: Report on questionnaire about maintenance of substation equipment. Conducted by the Japan Electrical Manufacturers' Association, March 2003
*2 The average number of years before renewal expected by users refers to the expected average number of years of operation before renewal.
*3 Inspection without disassembly