Mercury lamp alternative lighting
Series achieving energy saving with leaving fluorescent lamp in use as it is now and line-up of LED-related lighting!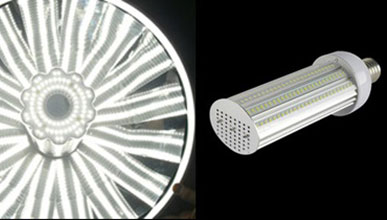 Overview
Energy saving is realized by simply replacing the lamp without changing the design of existing product!
It will reduce the repair cost to a minimum.
Mercury lamps will be abolished by 2020.
Feature
<LED lamps to be a substitute for Mercury lamps.> RoHs Directive Compliant Products
・Immediately bright with instantaneous lighting
・Low insect attracting will reduce the time and effort of cleaning.
・Reduce the power consumption to less than 1/5
・To achieve the power-saving and low cost, the light source can be reduced.
・Responsive to each power as a replacement of a conventional mercury lamp.
Specification
*To open PDF files, AdobeReader is required.
Products Name
Mercury lamp W considerable number
Mouthpiece
Power-supply voltage
Frequency
Total luminous flux
Power consumption
CJK150 series For high ceiling
CJK-180W-N
700W
E39
100~244V
50/60Hz
23000Lm
180W
CJK-180W
700W
E39
100~244V
50/60Hz
21000Lm
180W
CJK-125W-N
600W
E39
100~244V
50/60Hz
18200Lm
125W
CJK-100W-N
500W
E39
100~244V
50/60Hz
14600Lm
100W
CJK-80W-N
400W
E39
100~244V
50/60Hz
11600Lm
80W
CJK150 series
CJK-54W-N
300W
E39
100~244V
50/60Hz
8100Lm
54W
CJK-45W-N
250W
E39
100~244V
50/60Hz
6750Lm
45W
CJK-36W-N
200W
E39
100~244V
50/60Hz
5400Lm
36W
CJK-27W-N
150W
E26
100~244V
50/60Hz
4050Lm
27W
CJK350 series Single-sided light emitting
CJK-40W-350N
400W
E39
100~244V
50/60Hz
5800Lm
40W
CJK-40W-350
300W
E39
100~244V
50/60Hz
5200Lm
40W
CJK-35W-350
250W
E39
100~244V
50/60Hz
4550Lm
35W
CJK-30W-350
200W
E39
100~244V
50/60Hz
3900Lm
30W
CJK-20W-350
150W
E26
100~244V
50/60Hz
2600Lm
20W
*Fall Prevention Wire Bundle